Since moving to the new forum it is clear that there is no way to use forum BB code to post pictures or control how your posts look.
However after a bit of experimenting I was able to find a way to post pictures. You will still need the pictures hosted online, I've used www.photobucket.com for a while and it serves the purpose well. I'm sure that this technique could be used with any sort of picture hosting, because as far as I'm aware you just need a URL for the picture you want to display and the HTML code required to make it show on a web page.
Using Photobucket it is easy, once you have uploaded the photo and viewed it in your album you will notice that there are four code options presented. Email & IM, Direct Link, HTML code and IMG code.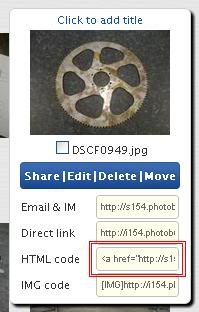 Just select and copy the HTML code then paste it into the forum.
It will look something like this:
Once you make your post your picture will display like this:
As you can see the forum software automatically sizes the pic for easy viewing, while giving the option to view full size with a click - I really like that.
I don't know enough about using HTML to try, but it might be possible to just enter the code to display the picture as you would to code a webpage, using a known picture URL from your own hosting. I'll leave that up to you to play with.